8 Secrets That Small Businesses Need to Know About Digital Marketing
8 Secrets That Small Businesses Need to Know About Digital Marketing
Marketing involves branding, services, prints, blogs, web development, advertising, analysis, and social media. With so many marketing options and available services, it is almost impossible to decide which is the most efficient marketing strategy for growing small businesses. Marketing is an effort to push your brand forward across various social channels, but it is also a necessity for every business. Small businesses mainly require marketing to kick-start their company's growth. But the big question here is how can this be done effectively, considering the budget and investments that small businesses can afford for marketing their product.
It is crucial to repeat your messages to the customers to make sure that your brand is heard! So market louder and bigger each time.
Something that small businesses usually tend to ignore is the importance that marketing plays in creating brand awareness. If you have read our blog about IPL Marketing, you would realize the global reach and influence that marketing has. A global audience will potentially enhance the sales of your brand products mainly because so many people are becoming aware of your brand and its products.
In our IPL Marketing blog, we have spoken about CRED which is well-known for advertising its brand with the quirkiest content. What we do not notice is that CRED was also a small business once. How did it so happen that this small brand grew so large and unforgettable? Well here is the secret! All small businesses need to do is to follow these steps while marketing their brands in the digital world and you are indeed going to see this marketing magic work!
Organize your brand objectives
As monotonous as this may sound if you are not organized in terms of your objectives it is implausible that you will be able to reach a greater audience. With a small to-do list-plan all the steps required to get a good ROI. Create a pitch on how to elevate the values of your business amongst the customers. Define who your competitors are and differentiate your brand from others. Show customers visually why your brand is better. Why should they opt for your brand products? Most of all make sure there is enough interaction between you and your customers so that you can get early input on what marketing strategies worked out and what errors need to be corrected.
How do you differentiate your brand from other brands?
Something to keep in mind is to recognize the core strengths of your brand. This includes products, services, distribution, employee relationships, brand reputation, and the price of your products.
Make sure to hand-pick and work closely on all these factors because they play a significant role in making your brand an outstanding one!
Work on Web design ( Website development)
In the present digital world, online platforms play a vital role in raising brand awareness. Technologies have developed seamlessly and most customers use Google and other search engines to research and learn about a brand. This is why your small business will need a website. An optimized website with excellent SEO (search engine optimization) will bring potential customers to your website. Your website traffic can be analyzed with the help of Google analytics. Depending on the performance of your website its content can be optimized. Remember this, you cannot get ranked on the first pages of search engines in one week, this is a continual effort that needs to be worked on regularly. As a small business, it would be advisable to do it more often. Let us also consider how small businesses cannot afford to pay huge amounts for PPC campaigns on search engines. This is why the right set of campaigns needs to be run on search engines for your brand. An optimal set of campaigns will organic traffic to your websites. In this sense, it is cardinal to develop a streamlined website.
This means that the longer it takes to load your website, the quicker people leave it.
Interesting blogs always sell
Makes sure to post articles, blogs, and other top-notch content for your viewers so that it will help enhance your SEO. With a better SEO, you stand a better chance of getting ranked on search engine pages.
Your content strategy game needs to be incredibly good for you to increase organic traffic.
Some tips are:
Create relevant blog content
Make sure SEO friendly
The appropriate tone of voice
Build trust amongst your readers
Build your brand's online presence
Whether your brand is active on digital platforms or not, your brand information will be available to the public and it is wiser to proactively control what people are reading about your brand. Let people see what you intend to show them about your brand and its products. Make sure you search on various browsers about your brand and create a set of lists for your brand to work on. Even brands that are negatively showcased online can grow a positive image amongst the public by improving customer reviews and responding to backlashes. This is mostly dealt with under reputation management service, a very familiar marketing service.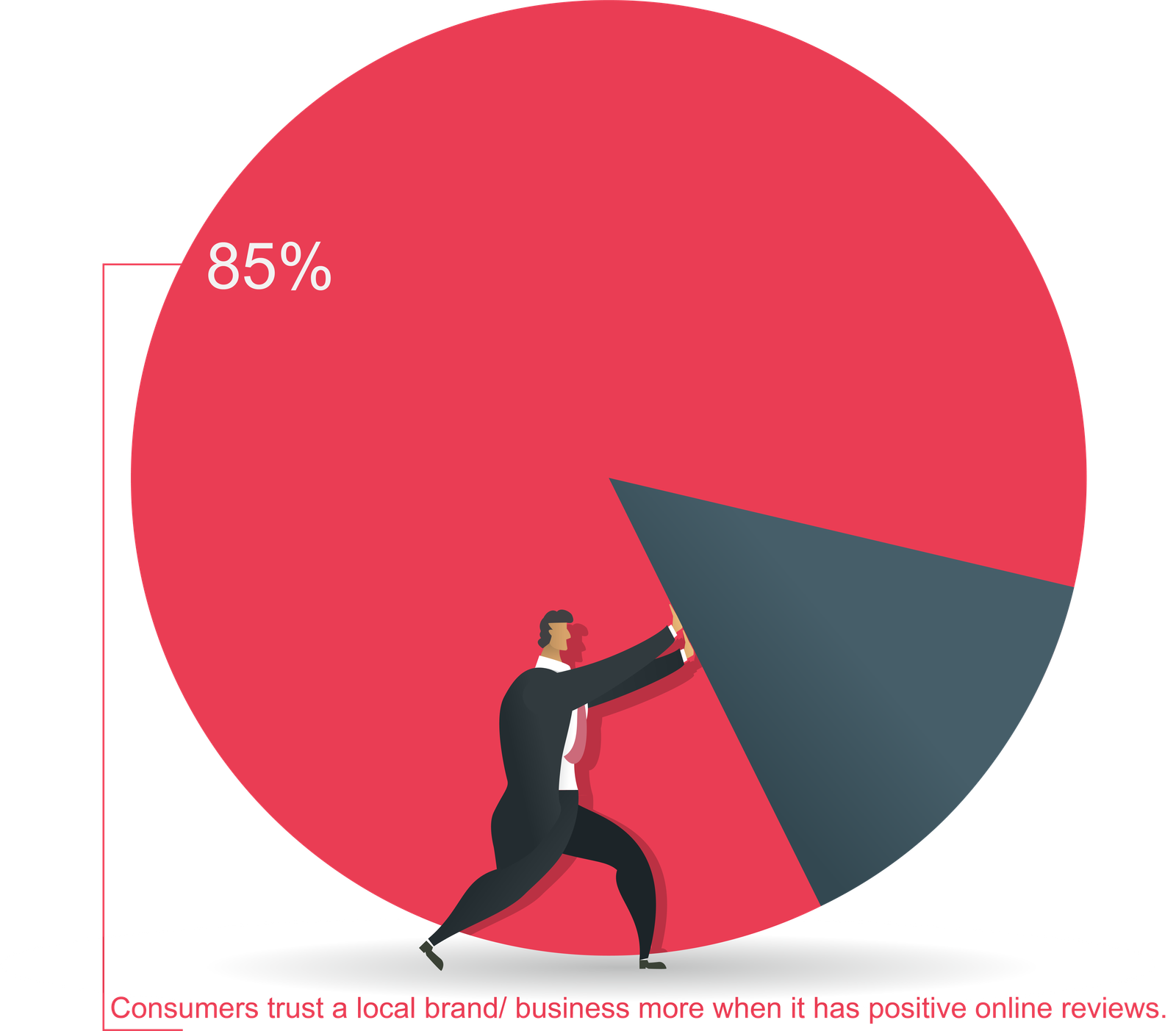 85% of consumers trust online reviews as much as personal recommendations
Under the same source, we also learned that about 74% of consumers trust a local brand/ business more when it has positive online reviews.
Local awareness goes all the way
Networking within your locality is an aspect of building a small business that no one should forget. If you do not strategize to join your local communities and associations to create brand awareness, then you will never be able to build your brand in your local environment. Networking is an amazing way to gain business leads. It is a simple and affordable way to meet new potential clients and contacts. In this way, new referrals are easier to spot. Go ahead and actively take part in the community events and sponsor good amounts to create a positive brand image. Show people your brand values and promote your products while you are at them. Take the assistance of family and friends to promote your brand locally.
Irresistible offers and freebies
The thing about freebies is that no one says no to them! Who does not want a free manicure while getting a paid haircut? It is as simple as that. A salon that promotes its new manicure service can promote it by giving a free manicure to every customer who opts for a paid service with them. This way they not only get to showcase the quality of their new service but also make their customers happy with a free service. The customer leaves the salon with a satisfying experience and will come back for a paid manicure service eventually.
In the case of small businesses, it is best to give your consumers a small taste of your product or service and leave them wanting more. If your product/ service quality is satisfying, it is only natural that the consumers would want to pay for it the next time.
A happy customer will also recommend the brand to their friends and family and potentially help improve brand awareness.
Even if you have done all of the above steps, customers may not choose your brand. This is why you need to get out there and let people know who you are, why your brand product/ service is unique from the competition and how they can contact you.   You have to do this consistently, and repetitively preach the uniqueness of your brand. Advertising can be of different forms and choosing the right digital marketing solution is essential for boosting brand awareness
Marketing has a lot of exploring to do, especially if you are a local brand just beginning your business journey but the benefits of marketing your brand as a small business is the most proficient method of reaching a wider audience. Digital marketing has transformed in such a way that it helps local businesses perform brilliantly in their respective industries. Digital platforms are the right choice to showcase your brand and its products for a cost-effective, agile, and better ROI. You not only present your brand to your target audience but also to millions of people who might convert to potential customers. This blog has some of the most basic steps needed to generate customers and organic traffic for your small businesses.
FyerX is just the right stop for you if you are planning to establish your brand on digital platforms. For more blogs, click here.