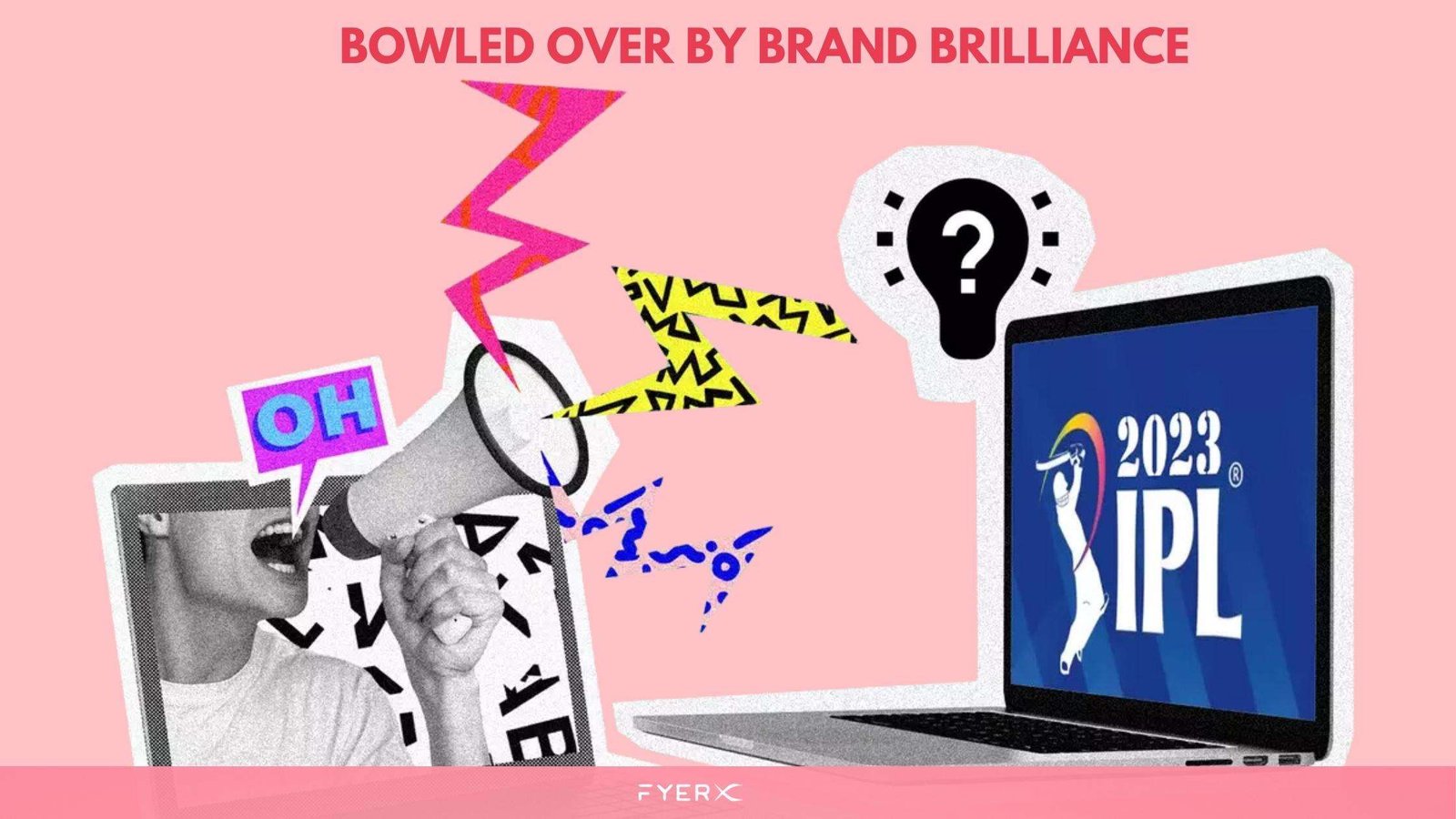 How Brands Boom Their Marketing During TATA IPL 2022 Season 
Indian Premier League (IPL) is the most awaited sports event every year, especially in India.
What is it that makes IPL tournaments so famous? Is it the players? Is it the owners or the celebrities involved?
Well, the answer is all of the above. But how does one promote all of this? The answer is basic. All of this is only possible with the help of advertisements.
Every season, IPL has proved to be the best digital marketing platform. It could be newsletters, emails with discount coupons, merchandise promotions, e-commerce sales promotions, players' jerseys, stumps, and many other products and services. Every brand that opts to advertise itself during the IPL season witnesses a boom in product sales.
Just like every other season, IPL 2022 has brought in many advertisements in the hope to kick-start brand promotions which had been hindered, especially after the long slump that COVID-19 brought about.
In a 2021 article, Sam Balsara, an advertising, and media veteran shared some insights about the marketing expenditures during the IPL season.
Let us throw you some light on this:
In 2015, the IPL TV advertising clocked around 1200 crores. IPL advertising expenditure has boomed ever since. The performance and results from IPL marketing have made brands invest massive sums every season.
According to the economic times, in 2021, IPL TV advertising clocked 2950 crores.
So what does all of this mean? It means that IPL brings large numbers to the marketing industry, thus establishing a beneficial relationship between the sports and marketing industry. Both industries see potential growth in profits.
HOW DOES IPL MARKETING WORK?
I think we are all aware of the commercial breaks between each over of the game. These commercial breaks provide the necessary space for brands to promote themselves and create brand awareness. The strategy is simple, every viewer is eagerly waiting for the next over to take place, and no viewer will switch channels during these IPL commercial breaks because they do not wish to miss the start of another over. Marketing industries leverage this aspect and create brilliant eye-catchy ads that viewers and fans cannot miss!
Marketing is indeed all about strategies, and to promote your brand it is crucial to think differently. This is a well-established fact during IPL. 
HOW DID IPL EMERGE AS A POPULAR MARKETING PLATFORM?
The first thing to remember is that it is a sports event. We know the craze which revolves around the sports industry and the massive fans and their craziness towards football, tennis, cricket, etc.
Cricket in India is considered a passionate game that is followed all across the country. And no other sport has such a large fan club in India. It is strategically the right thing to use the IPL tournament to market and advertise brands since the audience reach will be incredibly massive, reaching millions of people!
All that marketers need to do is pick the right match spot in every match or every alternate match to advertise their brand. It certainly establishes good frequency to the same viewer as well.
IPL seasons usually last more than 40 days and marketers get to make the best use of the whole month to help increase brand awareness and build brand reach.
It is frequently said that the cluttering of advertising space in the IPL is a disadvantage, but stats have proved otherwise. For brands to amplify their reach and growth, it is essential to focus on the repetition of the message at the same time and place.
As we speak about all this, we naturally assume that this seems like a huge investment and something that might be limited to large enterprises and multinational companies.
IPL Teams and Sponsor-List 2022
I am sure we all know the IPL title sponsor for the year 2022 is TATA with a sponsorship fee of ₹439.8 crores (US$58.4 million) per year.
The top four teams with the highest brand values of the TATA IPL 2022 season
Mumbai Indians
Chennai Super Kings
Kolkata Knight Riders
Royal Challengers Bangalore
Mumbai Indians
Brand Value
₹2,700 crore (US$358.6 million)
Chennai Super Kings
Kolkata Knight Riders
Royal Challengers Bangalore
Some of the partners of these 4 teams:
CSK


Their official partner is Dream 11 and their principal partners are India Cements, Nippon Paints, Astral Pipes, Equitas, TVS Eurogrip, Gulf Oil. SNJ 10000, British Empire and Reliance JIO.


TVS Eurogrip signed a three year deal with Chennai Super Kings and became a Principal Sponsor.
RCB

Their Title Sponsor is Muthoot Fincorp. Principal Partners are DP World, EXIDE, PUMA and Reliance JIO
KKR
Principal sponsors are Winzo sports, Unacademy. Official sponsors are Mc.Dowell's No.1 soda, LG, Nestle Munch, Reliance JIO, LUX Cozi, etc.
The above collected information from https://www.timesofsports.com/cricket/ipl/sponsors/ shows the eager involvement of many top brands which is also another reason why IPL tournaments are a great platform to market your brand
We know sponsors fund events, products, services, IPL teams, etc. The strategy behind the sponsorship is that by funding you get business exposure and can build your brand by connecting with potential customers. Sponsorship helps build business networks and create a positive brand image amongst the public and in the business sector.
HOW CAN SMALL BUSINESSES USE IPL AS A MARKETING PLATFORM?
The foremost thing to do is to acquire fewer advertising spots for every match. Pick spots according to your budget and it does not necessarily have to be ten spots in every match. It could be as few as three to four spots per match for around ten to twelve days throughout the season. It is a smart way to realize the impact of IPL marketing on your brand, and you can analyze the results and strategize it for the next season. 
Although, IPL marketing is a brilliant way to reach a global audience. Every brand needs to promote itself throughout the year. Consistency is the best way to create a memorable brand amongst the people. If you consistently forecast your brand every season with exceptional and relevant ads, your brand ought to stand out in the eyes of the people, thus becoming more and more established and popular.
At FyerX, a Bangalore based digital marketing company made use of the IPL craze this season and posted IPL campaigns on instagram which increased our viewership percentage in less than 48 hours!
Marketing extravaganza during IPL- Brands get fancier, smarter, and quirkier every season with their ads! 
IPL is the intermingling of globally recognized cricketers in an exciting format that is catchy and attracts millions of Indians every year. It is only natural that brands use this to gain potential customers. With every loud ad that a brand makes, the brands receive potential consumer growth and build brand identity
CRED'S CONSISTENT IPL MARKETING
One such brand that went viral with its creative IPL advertising is CRED. We all know CRED for its out-of-the-box advertising campaigns. In 2021 CRED made a dashing entry with its entertaining ads, starting with Rahul Dravid transforming into "Indiranagar Ka Gunda", which was followed by Kumar Sanu selling insurance and Jackie Shroff learning Zumba. In addition to this campaign is a boy band campaign made of 90s OGs Venkatesh Prasad, Javagal Srinath, Saba Karim, and Maninder Singh which was produced by Early Man Film.
The question is why did this particular advertisement gain so much popularity? What must be the magic behind this?
Well, it is the fact that CRED used influencer marketing as the main aspect of the campaign and has strategically put forward its message to the viewers. The relevance of how frustrating traffic is in India and using Rahul Dravid as a face to represent the message is their clever strategy. One that has indeed proven to have gained many viewers!
The relevance of this campaign is a crucial aspect to focus on. Brands need to connect their campaigns to public sentiments. A true marketer knows that the public's sentiment is the right spot to hit when it comes to making advertisements. Another aspect we can see is how humor can play an important role in keeping your viewers engaged.
TV advertising has remained the most popular advertising medium.
Although we have seen increased growth in the popularity of digital devices, television advertising continues to flourish and deepen its roots, dominating the Indian AdEX. About 42% of shares have been taken over by television in the Indian AdEx. It is an exponentially high number which is why there is no denying that marketers and enterprises continue to promote their brands on TV.
It is also necessary to keep in mind other media platforms play their roles in marketing a brand. A new brand that is yet to be launched will have to begin its journey on a more cost-effective social platform than on TV.
MUTHOOT FINCORP'S GOLDEN CAMPAIGN
Another great example would be Muthoot Fincorp which is a well-known Kerala-based fin corp that ventured into the Northern and Eastern Indian market with a launch of about 4500 odd-branches coinciding with the IPL marketing/promotions.
This company went one step further and rolled out interest-free gold loans during the IPL season to gain increased traction during the sports event.
This company witnessed a 54% rise in brand awareness after this campaign. Surprising much? Not really. The right marketing strategy can do wonders for your business, and showcasing your brand during the IPL season is one such strategy. Muthoot Fincorp witnessed 140 million digital impressions and over 20 lakh inquiries at their call centers and branches during and post-IPL which led to a brilliant growth for the company which was facing a massive decline in business during the COVID-19 nationwide lockdown.
Another campaign by the brand #SpiritofGold gained a wide audience engagement. The consistency of the brand in the marketing industry is the reason it has an established base.
UNDERSTANDING THE BENEFITS OF IPL MARKETING
We can conveniently jot down some advantages of IPL marketing:
It is a three to four-hour game, which is viewed by all age groups. It is a global audience game.
The match slot timings are based on the public and their availability, this makes it easier to reach a larger audience.
The sentiments that fans hold towards cricket are an important aspect that can be leveraged.
Increased association with IPL increases the reason to support and purchase a brand's product.
Product positioning during IPL season using different digital marketing strategies on TV, social media, and other modes of communication increase profits every single time.
Brand placement on social media in collaboration with a cricke
Conclusion - IPL MARKETING GROWS LARGER EVERY SEASON
IPL is expected to go on for many more years, and similarly, we can expect IPL marketing to flourish and grow simultaneously. Brands are investing more and more money into IPL marketing and running innovative ads and campaigns during IPL season.
The above blog gives you a good knowledge of the stats and numbers of successful deployment of advertisements during the IPL tournament.
Similarly, we are to also keep in mind that if CRED or Muthoot Fincorp had not done their advertising correctly during the IPL tournament their campaign may have never gained such a large audience. Marketing when done right can change the fate of any brand at anytime during the year. No specificities or seasonal requirements are needed to be adhered to. Appropriate campaigns and ads in combination with the year's more awaited tournament like IPL will definitely change the look of your brand amongst the people!